Interactive Brokers Trading Service
---
Accessing Level 2 / Market Depth data for Stocks
To access Level 2 data for stocks in Sierra-Chart when connected to Interactive Brokers Trader Workstation, it is necessary that the symbol the chart is set to specifies the specific exchange code the symbol trades on. You cannot use SMART for the exchange code.
Refer to the stock ymbol format.
For example, if the symbol trades on ISLAND, then you can use ISLAND if that exchange is supported for the symbol. Refer to the images below for an example.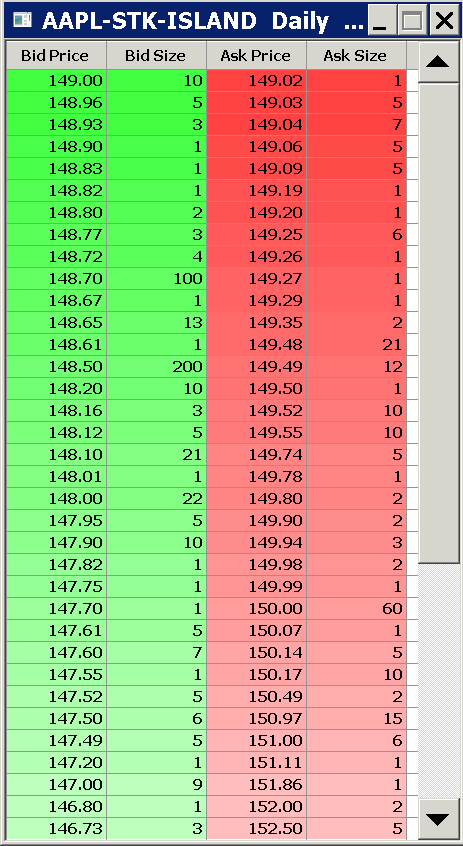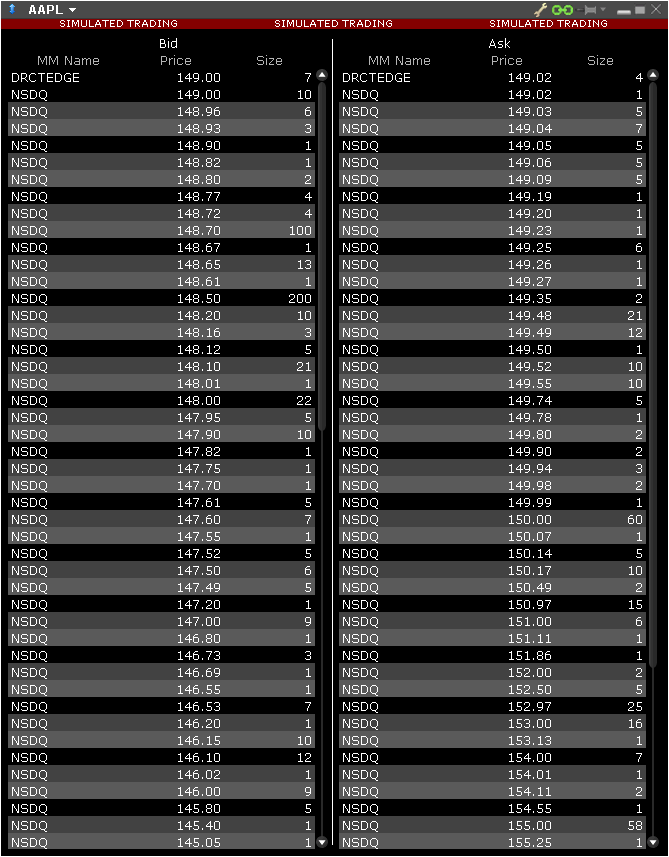 Trading Related Issues
When using Interactive Brokers you could potentially encounter any of the following trading related issues:
Canceled order stays in a Pending Cancel state.
Submitted order stays in an Order Sent state.
Submitted and accepted order disappears from chart even though it is still working.
Current Trade Position is not displayed on chart, Trade Window, or on the Positions tab of the Trade >> Trade Orders and Positions window. For information about this issue and possible solutions, refer to Trade Position Line or Quantity Disappearing or Displaying Zero.
A filled order remains in an Open state on the chart.
A Trade Position Quantity displayed in Sierra Chart does not update and is displaying a wrong Position Quantity. This can also be a problem if you are using the Order Fill Calculated Position in Sierra Chart.
There are various causes of these issues. From the perspective of Sierra Chart, the general cause is that Interactive Brokers does not provide the necessary order data feedback to maintain a proper state of an order, uses inconsistent symbols, or does not provide the necessary Trade Position data feedback for Positions.
If you encounter one of these problems, then you will need to contact Interactive Brokers technical support for help with these. They will need to review your Trader Workstation log file. They may not be able to help you with these kinds of issues. Therefore, please consider carefully whether using Sierra Chart with Interactive Brokers is appropriate.
You could also encounter a condition where a submitted order gets rejected and the Status goes to Error for reasons which are not apparent and not stated by the Trader Workstation API. You will need to contact Interactive Brokers about this.
Order Not Transmitted
When an order is submitted from Sierra Chart to Trader Workstation, it is always flagged to be transmitted by Trader Workstation. There never is any other possibility.
Therefore, if you see an order in Trader Workstation submitted by Sierra Chart with a "Transmit" button next to it, then this means that Trader Workstation is set to not transmit the order automatically. Contact Interactive Brokers support for help with this.
Orders Entered from Trader Workstation do Not Appear in Sierra Chart
When an order is submitted from Trader Workstation, in order for it to appear within Sierra Chart, it is necessary that Global Settings >> Data/Trade Service Settings >> Connection Details >> Instance be set to Client ID: 0 (Access All Orders).
After changing this particular setting reconnect to the data feed.
However, there can be a difference with the Symbol between a chart and the Symbol in the Trade >> Trade Orders and Positions >> Orders tab which will cause both order fills and working orders not to appear in a chart or Trade DOM.
This is due to the very complex and inconsistent symbology from Interactive Brokers.
Trade Position Line or Quantity Disappearing or Displaying Zero
If you are an Interactive Brokers user, and you do not see the Trade Position for a particular Symbol and Trade Account listed on the Trade >> Trade Orders and Positions >> Positions tab when the Trade Position actually exists for a particular Symbol and Trade Account, or the Position Quantity is incorrect, or the Position is displayed temporarily and disappears, then update to current version of Sierra Chart. Refer to Fast Update.
Updating in almost all cases will not make any difference. Sometimes over the years due to the substandard design of the Interactive Brokers TWS API, there have been problems with Trade Position data from the API that required changes on the Sierra Chart side to resolve. Therefore, by running the current version you can be sure that you have the latest support for Trade Position data from TWS.
If this does not resolve the problem, then understand that the problem is on the side of Interactive Brokers Trader Workstation and you must contact Interactive Brokers support for assistance for this kind of issue.
Basically the problem is why is it that Trader Workstation (TWS) is not transmitting the Trade Position data for the Symbol and Trade Account through the TWS API to the connected client, in this case Sierra Chart. Interactive Broker support may request the TWS Log files.
On the Orders and Positions >> Positions tab which displays the Positions, you will see Quantity and Trade Service Position Quantity fields. Normally these will match but could be different for up to 8 seconds. If the Trade Service Position Quantity remains at 0 when there is actually a nonzero Trade Position for a particular Symbol and Trade Account, then the Trader Workstation is not transmitting any Trade Position data to Sierra Chart.
For more information about this subject in general, refer to Incorrectly Reported Trade Position Quantity.
Another solution is to use the Order Fill Calculated Position. Although with this method you must be very diligent to make sure you have all of the order fills for the Symbol and Trade Account being traded.
Other than the information given in this section there is no further support that Sierra Chart can offer with this kind of issue and you should consider whether it is appropriate for you to be using Interactive Brokers.
Sierra Chart development and support cannot solve these numerous problems from Interactive Brokers. Either switch to a different supported trading service, or discontinue use of Sierra Chart.
Symbol Comparisons and Partial Symbols
Interactive Brokers has inconsistent and complex symbology specifications. It is the position of Sierra Chart, that this is a major fault of the Interactive Brokers system and it has no reasonable defense whatsoever. There is also the problem where it is possible to use SMART order routing but a Trade Position update will specify the specific exchange the symbol was filled on and this creates an inconsistency.
Therefore, based upon the security type, it often is not possible to match up the symbol provided with a Trade Position update from Interactive Brokers to the symbol of the Chart. For this reason a symbol is partially truncated by Sierra Chart when added to the Trade >> Trade Orders and Positions >> Positions tab, and when matching it to a chart, the chart symbol is truncated at the same location and a match is performed on the truncated text strings.
Therefore, when looking at the symbols on the Positions tab, you may see only a portion of the symbol. This is expected. However, if there are two symbols listed for the same security, this can be a problem and could potentially be the source of the problem where you do not see the current Position Quantity on a Chart or Trade DOM. In this case Sierra Chart support needs to be made aware of this.
Also, due to the substandard and complex design of the TWS API, you may see the Symbol for a particular Trade Position display as a number only on the Positions tab. This should only be for a short period of time. Less than about 10 seconds. If you see a number continuously displayed for a Symbol, then Sierra Chart Support should be made aware of this.
---
*Last modified Thursday, 18th May, 2017.