Sierra Chart Purchase and License Information
---
How to Access Sierra Chart
For access to Sierra Chart you need to have a Sierra Chart Account. And you need to have downloaded and installed Sierra Chart.

If you already have an account, Login to Your Account to activate a Service Package and add credit if your account usage time is expired, or to manage your account.
If you are a new user and do not have an account, then Create an Account here.

When you create an account you will receive 15 days of Sierra Chart with Advanced Features for free. After this trial time is up, refer to the Renewing Access section.
When your usage time ends there is nothing to cancel unless you have chosen a recurring billing option (if available). To renew access, refer to the Renewing Access section.
Renewing Access
Overview
The Sierra Chart Service Packages which include the software and included data services are paid for in 1, 3, 6, or 12 month increments depending upon what you choose. You pay for usage time of Sierra Chart by activating on your account the particular Service Package you want, and then add sufficient credit to the Services Balance to pay for that. This is the basic model of billing.
Your account has an ending date for the Service Package that you have active and paid for on your account. Just before the ending date is about to expire, this ending date for your Sierra Chart Service Package is extended by 1, 3, 6 or 12 months depending upon the Service Package time period activated, if there is sufficient credit on the Services Balance. The cost of the Service Package is deducted from the Services Balance.
It is recommended to keep a sufficient balance on the Services Balance for at least several months of usage time depending upon what you require.
The Sierra Chart software will notify you approximately 4 days before the current ending date of the usage time to remind you to activate a Service Package for renewal if this has not already been done, or to add additional credit your Services Balance to renew your current Service Package if there is an insufficient balance for renewal. This notification is through the System Notification window that you see upon starting Sierra Chart. You will also get an email message if your Services Balance is too low. Refer to the images below.
To find your Service Package usage time ending date, select Help >> Account Control Panel on the Sierra Chart menu. The Current Usage Time Ending Date will be displayed on your Account Control Panel page.
The ending date will be automatically extended as long as a Service Package is active on your account and you have a sufficient Services Balance to pay for renewals. If there is an insufficient Services Balance on your account, the renewal will not happen until there is. Therefore, there is nothing to do when the Service Package usage time expires and there is an insufficient Services Balance to renew.
When the free trial usage time ends, follow the Instructions below.
Instructions
Go to the Activate and Pay for Sierra Chart Services page. You will see instructions along with the current Service Package and number of Months set for renewal on your account. You can also go to the Activate and Pay for Sierra Chart Services page by selecting Help >> Add Usage Credit from within Sierra Chart.
Go to the Available Services >> Choose Usage Time Service Package section on that page. Refer to the image below. Select the Service Package and number of Months from the list and press the Update/Set button. For a description of the Service Packages, refer to Description of Service Packages.
The Service Package for the number of Months selected will automatically renew so long as there is a sufficient Services Balance on your account. If there is not a sufficient Services Balance, the automatic renewal does not occur. There is normally not a need to use the Renew Now button on that form, if shown, since the renewal is automatic.

In this image below, you can see that if you do not have enough credit on your Services Balance on your account, that you need to add credit in order to pay for the activated Service Package which will then extend the Usage Time ending date by the selected time period (1, 3, 6, or 12 months) for the current selected Service Package, if it is about to expire. To add credit, click on the payment link.

In this image below, you can see the form for Add Account Credit to add credit to your Services Balance. There are various payment methods available. Use whichever one is appropriate for you.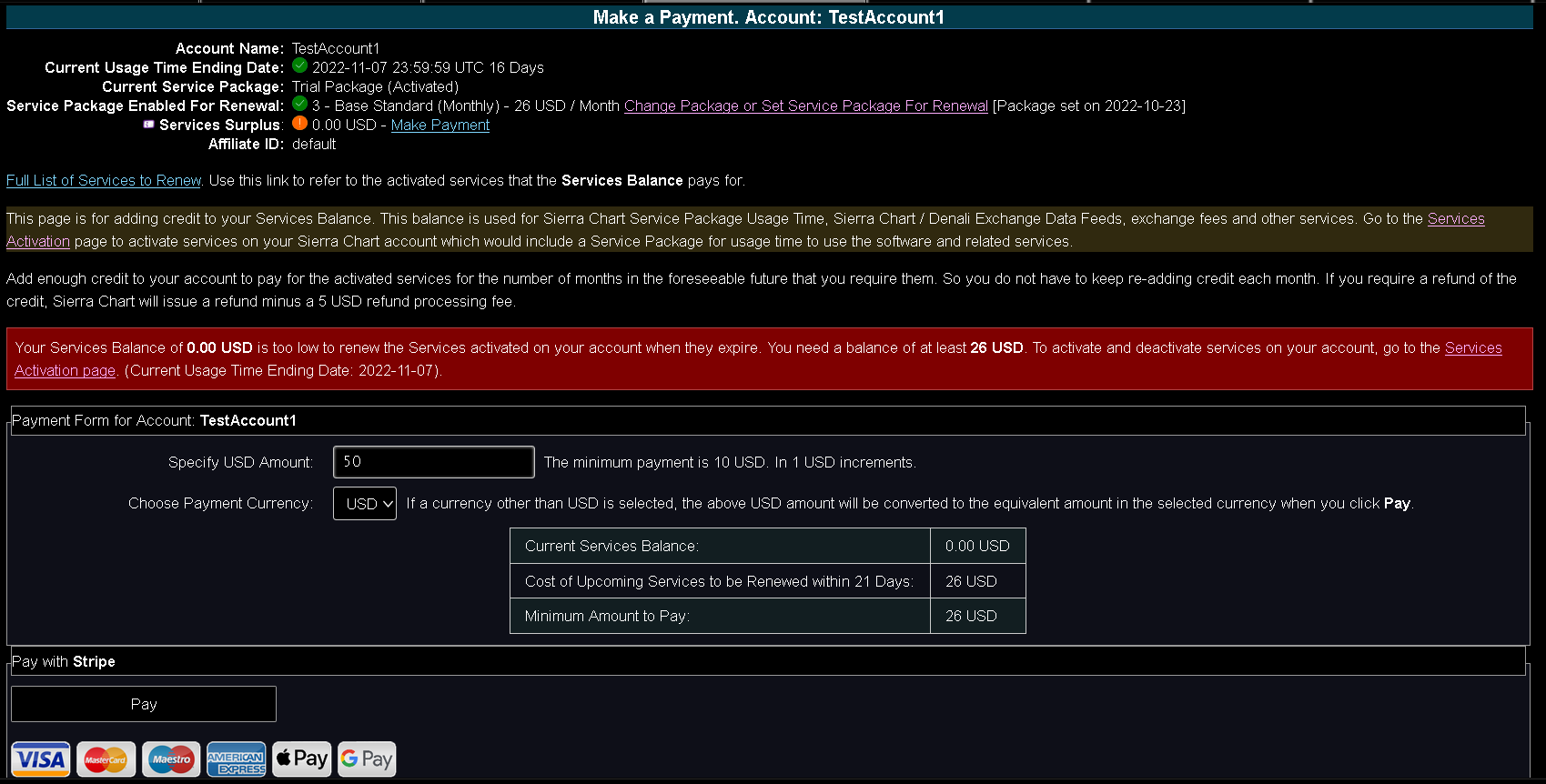 You can deactivate the current Service Package at any time on the Activate and Pay for Sierra Chart Services page. However, there is normally not a need to do this because if there is insufficient credit on the Services Balance a renewal will not automatically happen.
Automatic Renewals
Unlike in the past, usage time at a particular Service Package which allows you to use Sierra Chart, is added onto your account in 1, 3, 6, 12 month increments at a time depending upon what you selected on the Activate and Pay for Sierra Chart Services page. This is a little different than previously where you would prepay for any number of months, anywhere from 1 to 18, and your account usage time ending date would be set according to the number of months paid for.
One or two days before the usage time is about to expire, the usage time ending date on your account is extended by 1, 3, 6, 12 months and the payment for it is made from your Services Balance.
So if you have 150 USD on your Services Balance and your cost of a particular Service Package is 15 USD per month, then this is enough to pay for 10 months and your account will automatically renew for 10 months, at the selected time interval, if the Service Package is set for renewal on your account.
Also, if you are using a newer version of Sierra Chart, you do not even have to restart the program. Sierra Chart becomes aware of the new usage time ending date while running.
This has the advantage that you can suspend your account at any time and just keep the balance as a reserve for future use.
When a Service Package is set for renewal on your account and when that usage time is about to expire, if there is an insufficient balance on the Services Balance, it will not be extended. There is also no automatic billing of a credit or debit card. As soon as you manually make a payment, the usage time will be extended at that time.
Lost Password
If you lost your Sierra Chart software password, use the Retrieve Password page to go through the process to reset and retrieve your Account Name and Password.
Licensing
Each user needs to have a separate Sierra Chart account.
You can install Sierra Chart on as many computer systems as you want. However, each Sierra Chart account can only be used on 2 computer systems at the same time or concurrently.
You can install Sierra Chart multiple times on the same computer system and each of those copies can be used concurrently without restriction.
An installation of Sierra Chart is not linked in any way to a particular computer system. You can freely install Sierra Chart on any system or move it to any system you want. You just need to login to Sierra Chart using your Account Name and Password. There is only a limit to the number of simultaneous running instances of Sierra Chart on different systems.
If you wish to use Sierra Chart on more computer systems, you will need to pay for additional systems through the Activate and Pay for Sierra Chart Services page.
More systems per a single account is possible than what can be set through the control panel, however this is an additional cost per system. Contact Sierra Chart support for additional information.
Support Services
All paid customers are entitled to a reasonable amount of support to assist you with connections to external services and guidance for the most basic use of the software and services. The definition of reasonable and basic use is defined by Sierra Chart support within the context of the support request.
Support outside of what is described here is generally provided, however is within the discretion of Sierra Chart Support. Telephone support is usually chargeable and an extra service. It may be provided at no charge if it is the most efficient way to resolve a basic issue you are having.
Under certain conditions, customers who consume a lot of support may have their monthly price of Sierra Chart increased. Generally this is very very uncommon, but it is something to be aware of.
Invoices for Payments
To get an invoice for payment you have made for Sierra Chart usage time or other services, go to the Transaction Log page.
It is possible to add additional text to the customer information which by default includes the name and address. You may want to add a tax ID. To do that, set the "Additional Invoice Text" first through the Manage Account Information page.
Refunds
To request a refund, make this request through an Account Support Ticket. Refer to the information below for the specific refund terms and conditions.
As a matter of policy any refund requests for the Sierra Chart Exchange Data Feed or for exchange fees will not be made. You have been advised of this before confirming a payment for these services. These are a direct cost to us that we cannot obtain refunds for ourselves. There are some exceptions to this rule, in the case of a genuine mistake and if we can arrange a refund. But this is something that has to be determined case-by-case and there are service fees for this.
A reason for a refund needs to be given. A refund for the remaining Services Balance on your account can be made according to the following terms.
A minimum refund fee of 5 USD/EUR or 10% of the amount to be refunded may be charged against any refund made.
Refund requests for amounts less than 15 USD usually will not be made.
There may also be a deduction for support expenses at a rate of USD 40 per hour. Do understand that providing support to users whether online or via telephone does cost us money and is not refundable.
For refund to be given, there must be a means by which a refund transaction can actually be made. It usually is not possible to refund the payment card directly after a certain amount of time has passed. Usually three months. In this case an alternative will be to receive the money through a PayPal.
Privacy
All of your account information is kept private and is never disclosed other than for the reasons stated below.
When a payment is made for Sierra Chart, your name and address information you have set in your account details is provided to the payment processor and their bank, which you choose to use among the supported payment processors. Additionally, if you choose to use the Sierra Chart Exchange Data Feed, name and address information is provided to the data feed vendor of record and to the exchanges as is required.
We do not have access to your credit/debit card number since this is processed by outside payment processors.
Canceling
There is nothing to cancel. We do not do any automatic billing. If you do not wish to continue to use the software, there is nothing you need to do. Your account will end on your usage time ending date. It is completely unnecessary to contact support. Thank You for using Sierra Chart.
Recurring Billing
In no case does Sierra Chart do automatic or recurring billing to a credit or debit card. All payments must be manually initiated by a user. This capability may be added later but is not currently supported.
The general reason we do not do recurring billing is because we do not store cardholder data for security reasons. Also, a user may forget about recurring billing and get unexpected charges if they did not cancel the automatic or recurring billing.
Therefore, you will pay for the services that you require ahead of time by making a payment to your Services Balance. So all transactions are initiated by you and not by Sierra Chart.
In the case of your Sierra Chart Service Package and the Sierra Chart Exchange Data Feed if you are using it, the payment for these services is made automatically from the Services Balance on your account before the particular service expires.
Therefore, you generally want to make sure you have a sufficient credit on the Services Balance for your account to keep the services you require active.
Services Balance Backing
All Sierra Chart service balances are backed by 100 percent physical gold fully owned by Sierra Chart with no liabilities.
While these balances are normally small and generally this is little significance in most cases, Sierra Chart does believe in gold and silver as real money and believes in a free-market money system without central banking.
Exclusive Agreements
Sierra Chart does not engage in any kind of exclusive agreements.
Below are some examples of this.
We will not enter into an exclusive agreement with a single reseller in a particular geographical area to offer Sierra Chart.
We will not enter into an agreement containing language which excludes us from later entering into any kind of an agreement relating to Sierra Chart with individual users, resellers or businesses, that the agreement says should be excluded.
We will not enter into an agreement exclusively offering functionality in Sierra Chart to one particular entity to the exclusion of anyone else. This excludes some custom development that was agreed ahead of time to be for that one particular entity, but in that particular case it would be developed as something completely separate and not part of Sierra Chart.
Some feature or functionality that is developed as part of Sierra Chart, is open to all even if we billed a specific entity extra for the development of that feature or functionality. Although in these cases what we normally bill is only a small portion of the actual cost to develop it.
Under no conditions, will an individual or business be cut off from the use of Sierra Chart other than for reason of nonpayment. We understand that users take the time to learn about Sierra Chart, do custom development for Sierra Chart with their own time and money, and therefore can become dependent on our products and services for a certain period of time. It is for this reason, that we always endeavor to maintain consistency as much as we can, maintain reliability and longevity of our products and services.
There is no promise being made here that Sierra Chart will always be available, available at the same prices, and always work the same way but this generally is our objective.
The price of Sierra Chart can be increased but these price increases will be reasonable and provided with notice when possible.
None of the above statements constitute any legally binding agreement. They are only statements of intention.
---
*Last modified Tuesday, 28th March, 2017.