Sierra Chart - Software Login Instructions
Software Login Instructions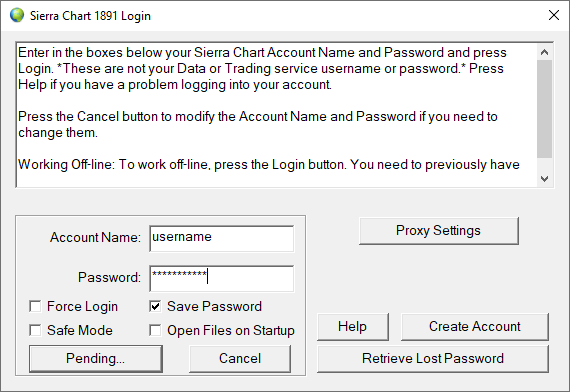 Before You Login
If you have not already downloaded and installed Sierra Chart, download the current version from the Download Page.
If you do not already have a Sierra Chart account, then you will need to Create an Account.
Step-By-Step Login Instructions
Start Sierra Chart. If Sierra Chart is running, restart it.
If the login button says Pending..., then press the Cancel button.
Enter your current Sierra Chart Account Name and Password on the Login window exactly as you specified them when you created your account. If you changed your password, then be sure to use your most current password.
In almost all cases Use HTTP Proxy should be unchecked. Complete information about the HTTP Proxy settings can be found on the HTTP Communication Errors page.
Safe Mode checkbox: This means Advanced Custom Study Safe Mode. When this option is checked, Advanced Custom Study files which provide studies, indicators and trading systems from outside developers, will not be downloaded or loaded. This rarely if ever needs to be checked. It only needs to be used in case these files are causing a stability problem in Sierra Chart.
Make sure you are connected to the Internet. Press the Login button.
If you receive an error, then refer to the Login Problems section below for instructions on how to resolve that error.
If you are a new user, continue with Step 3 in the Initial Setup Instructions.
When your usage time has ended, there is nothing to cancel. If you want to renew, go to the Purchase page or select Help >> Purchase on the menu.
Login Problems
When the Login window displays when you start Sierra Chart and you have logged in previously, the Login button will be automatically pressed. When the button is pressed either automatically or manually it will say Verifying and become grayed. Initially the button will say Pending while the login is pending.
If you receive an Invalid Account Name or Password message when the Login button is pressed on the Login window, then this is because you have not entered your Account Name or Password exactly as you provided. If you are unsure of your Account Name or Password, then request your password be resent to you by going to the Account Support page.
If sometime after pressing the Login button you receive a Sierra Chart Login Error: (specific HTTP error message) message, then this will be caused by an HTTP communications error.

For help with HTTP errors, refer to the HTTP Communication Errors page.
Login with a Different Sierra Chart Account Name
If you need to login with a different Sierra Chart Account Name than you are already using or ensure verification of your account information, do the following:
Start Sierra Chart.
Press the Cancel button on the Login window to prevent an automatic login.
Enter your current Account Name and Password on the Login window or verify they are correct.
Press the Login button.
If you have any trouble logging in, refer to the Login Problems section.
Working Off-Line Without an Internet Connection
Follow these instructions to use Sierra Chart when you do not have an Internet connection:
You first need to have logged into Sierra Chart successfully when you last used Sierra Chart while you had an Internet connection. Otherwise, the below procedure will not work.
It is required to enable Save Password to be able to work off-line and for the below procedure to work.
When you do not have an Internet connection, you simply need to start Sierra Chart and let it log in automatically. The login may take a little longer. About 10 to 20 seconds but it will let you in. Do not press the Cancel button during this time.
You can use Sierra Chart without an Internet connection for about up to a month.
Once you have logged into Sierra Chart, to prevent it from connecting to the Data and Trade servers, select File >>Disconnect on the menu. You may also want to uncheck Global Settings >> Data/Trade Service Settings >> Connect on Program Startup to prevent Sierra Chart from connecting on start up.
Forced Login
There are cases where it is necessary when starting Sierra Chart to ensure a connection to the Sierra Chart server to receive updated account information which may not occur if there is a connection problem to the server. To force a login, as it is called, follow these instructions.
Start Sierra Chart. Or restart Sierra Chart if it is already running.
On the Login window press the Cancel button if you see a button to the left of it labeled "Pending".
Enable the Force Login option.
Press the Login button.
---
*Last modified Wednesday, 19th October, 2016.