Sierra Chart Futures Order Routing Service With Data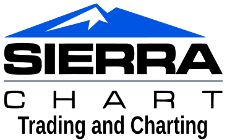 The service documented on this page is now available as of February 22, 2019. Although it has a limitation where trading of futures spreads and options has not yet been certified. Only outright futures have been certified. Certification for spreads and options is expected to be completed before the end of April 2019.
---
Introduction
The Sierra Chart Futures Order Routing Service With Data is a new service from Sierra Chart to provide futures contract, futures spreads, and futures options order routing services along with market data.
This service supports a large number of clearing firms (list below) since the order routing in the background is through Trading Technologies (TT). So in other words it is broker/firm neutral.
Supported exchanges are CME, CBOT, NYMEX, COMEX, ICE US, ICE Europe, EUREX, Hong Kong futures, CFE.
It has the following features:
Low latency order routing to the exchange. Under 1 to 2 milliseconds.
Stable and reliable connectivity.
Simplified connectivity.
Long-term order fill history with accurate Position data to ensure complete, reliable, hasslefree, and consistent trade statistics reporting within Sierra Chart like the Daily Profit/Loss, the Trade Activity Log Trade Statistics and Trades Tabs, and the Trade Statistics for Charts.
Trouble-free and properly managed server-side OCO orders.
Trouble-free and properly managed server-side bracket orders.
You still have the ability to use client-side managed OCO and Bracket orders. Trailing Stop orders are still always managed locally on the Sierra Chart client side.
Reliable market data with extended market depth for CME markets (currently 200 levels).
Can trade spreads and options with easy symbol Lookup (only CME markets at this time).
Uses TT in the background for order routing and accounts. Therefore, any broker supporting TT can be used.
Web-based trading panel (upcoming).
Cost is .10 USD per contract for order routing. Current data feed pricing starts at 25 USD per month.
Ability to access trading accounts with different firms in a single instance of Sierra Chart.
For market data, the high quality and reliable Sierra Chart Exchange Data Feed is used.
Order routing is through a server managed by Sierra Chart with a FIX connection to Trading Technologies. Overall latency is below 2 milliseconds to the exchange. While the latency on our side is below 1 millisecond, we have increased the latency rating to under 2 ms to account for the latency between the Sierra Chart server and the TT server and also TT order routing.
Order routing through TT FIX servers is below 150 µs (microseconds).
Support for multiple simultaneous connections to the trading server. There is no limit on the number of connections. However, because each connection is going to be using the Sierra Chart Exchange Data Feed there is a separate real-time connection fee for each connection. For real-time data connection pricing, refer to Data Feed Pricing. However, if you are using Sierra Chart from the same computer you can use the New Instance feature and use a single connection in multiple instances of Sierra Chart on the same computer.
This new order routing solution is meant to evolve over time to be the very best and lowest cost futures trading solution for the Sierra Chart user base. It allows us to provide a high level of support and reliability to our customer base. So that you have a consistently and trouble-free and reliable trading experience along with trade statistics reporting.
Over time this is meant to be an alternative or replacement for other supported trading gateways like Rithmic, CQG, CTS, Gain Capital, Interactive Brokers. It is the intent that it will be cost competitive with other services. By June/July 2019 we will be releasing a new Service Package which includes the data feed for the CME and later EUREX, and removes symbol count limitations or greatly increases them.
It allows Sierra Chart development to focus on one solution and making it the best solution rather than spreading our resources thinly among multiple solutions and each of those other multiple solutions being less than the best. And it also allows Sierra Chart development to focus more on the development of Sierra Chart itself rather than chasing all of these other external services and their problems every single day.
What is Included
Streaming Real-Time Data: Provided by the Sierra Chart Exchange Data Feed.
Historical Intraday Data: Provided by the Sierra Chart Exchange Data Feed.
Historical Daily Data: Provided through the Sierra Chart Historical Daily Data service.
Historical BidVolume and AskVolume: Yes. Accurate.
Live Trading Services: Yes.
Simulated Trading: Yes.
Order Types Supported: All.
Server Managed OCO (Order Cancels Order): Yes.
Server Managed Bracket Orders: Yes.
Automated Trading (applies to Live or Simulated): Yes.
Setup Instructions
This service supports live trading only. For simulated trading you can enable Trade >> Trade Simulation Mode On within Sierra Chart, or use the Simulated Futures Trading Service. However, for simulated trading, in order to take advantage of the lower-priced CME exchange fees, requires that you still have a live trading account anyway.
To be able to use this service, you need to have a live trading account with one of the following clearing firms:

ABN AMRO Clearing
ADM Investor Services
Advantage Futures
AMP Global Clearing
Aarna Capital
Bank of America Merrill Lynch
Berkeley Futures
BNP Paribas
Citigroup
Credit Suisse
Dorman Trading
ED&F Man Capital Markets
G. H. Financials
Genesis Proprietary Trading
INTL FCStone
J.P. Morgan Securities
KGI Securities
Macquarie Bank
Marex
MBF Clearing
Mizuho Securities USA LLC
Morgan Stanley
Nissan Securities
Phillip Capital Inc.
Quantitative Brokers
RJ O'Brien
Rosenthal Collins Group (RCG)
Scotia Capital
sino AG
Societe Generale
Stage 5 Trading
Straits Financial
UBS
UOB Bullion & Futures
Wedbush
Xconnect Trading Limited

Fill out the request form for us to request your clearing firm to add your trading account to the Sierra Chart company TT FIX connection for order routing. All fields are required.
Once the clearing firm adds your trading account to our FIX order routing connection with TT, then we will confirm that and then we will send you an Account Support Ticket asking you to confirm that the TT account identifier is correct.

Once you confirm that, then at that time we will assign it to your Sierra Chart account and you will see is listed on your Account Control Panel.

You have the ability to remove the trading account anytime through your Account Control Panel, by clicking the Disable button beside the trading account name/number. Your clearing firm also has the ability to remove the account from our TT FIX order routing connection.
At this point do not continue with the remaining steps until you hear from us in regards to your trading account.
Once the above procedure is fully complete and your trading account has been assigned to your Sierra Chart account, then continue with the remaining steps.
Follow the Sierra Chart Exchange Data Feed Set up Instructions to activate and pay for the Sierra Chart Exchange Data feed for market data. You will need to activate the exchanges that you require. In the case of CME data, normally you will be activating one of the CME Group exchanges.

If you need help with this step, start an Account Support Ticket and we will get this set up for you but you are still responsible for adding the necessary funds to your account and completing the market data agreement.
Update Sierra Chart to version 1890 or higher. Refer to the Fast Update instructions.
Select Global Settings >> Data/Trade Service Settings.
Set the Primary Server to one of the following:

| Server | Description |
| --- | --- |
| Server 1 | Chicago Cermak Equinix data center with routing to TT Chicago. |
| Server 2 | CME DC3 - CME Aurora data center with routing to TT in same data center. This is the recommended Primary Server to use. |
| Server 3 | Falkenstein Germany with routing to TT Frankfurt. |
| Server 4 | Naperville Illinois with routing to TT Aurora. Good for backup. |
| Server 5 | Not currently used. Planned to be in Singapore. |



Set the Backup Server (version 1896 and higher) to what you want. The backup server is used when there is a failed connection to the Primary Server.
Press OK.
Order fills for orders submitted through Sierra Chart, have a .10 USD per contract fee. Make sure your Services Balance has a sufficient credit to cover the cost of these fees. Go to the Add Services Balance Credit page to add credit as necessary. If the balance is low, or goes negative you will get an email notification and Sierra Chart support will also contact you to add more credit.
Connect to the data and trading servers by selecting File >> Connect to Data Feed on the menu.
If there is any connection error, it will be displayed in the Sierra Chart Window >> Message Log.

You will not be able to connect to the service, until your trading account with the clearing firm has been assigned to the Sierra Chart TT FIX order routing connection.

Select File >> Disconnect to prevent further connection attempts if there is an error connecting. Select File >> Connect to Data Feed, to try connecting again.
If your Sierra Chart Services Balance is negative and you fail to add credit to your Sierra Chart Services Balance, Sierra Chart may deny access to the service but we would first contact you by reliable means in regards to this.
If you want to use server-side OCO and bracket orders, then enable Global Settings >> General Trade Settings >> Use Server-Side OCO Orders and Use Server-side Bracket Orders.
It is recommended that you enable Global Settings >> General Trade Settings >> Hold Market Order Until Pending Cancel Orders Are Confirmed so that an order which is used to Flatten the position is held until orders which are pending cancellation have been fully canceled. This avoids any possibility of a rejection of a market order due to Position limits.
To open a Historical chart, Intraday chart or Trading DOM, select File >> Find Symbol on the menu. Select a symbol in the Futures list and press the appropriate button.
If you have existing Chartbooks with futures symbols that match another supported Data or Trading service, to automatically translate those symbols, open a Chartbook and select Edit >> Translate Symbols to Current Service.
Continue with step number 3 on the Getting Started documentation page.
Symbols
The available symbols are listed in File >> Find Symbol. If a market you want to trade there is not listed, let us know.
Spreads
Select File >> Find Symbol >> Futures.
Select the top level of a particular futures market and then press the Get Spreads button to get a list of the available spread contracts. This is only only supported for CME symbols at this time.
Options
Select File >> Find Symbol >> Futures.

Select a particular futures contract for a particular month and year. For a particular given market, any contract month is fine since all option symbols will be returned. Press the Get Options button to get a list of the available option contracts. This is only only supported for CME symbols at this time.
Frequently Asked Questions
How Does It Work?
Sierra Chart maintains 3 high-performance secure servers which route orders over our Trading Technologies FIX connections. There are multiple servers for redundancy and strategically located for the lowest latency. You can choose a Primary Server and a Backup Server in Global Settings >> Data/Trade Service Settings. You can choose what server you want to use. There are currently servers in Chicago and in Germany. We will be adding one in Singapore as soon as possible.
A trading account that your clearing firm creates, then needs to be added to our FIX connection and your trading account then needs to be assigned to your Sierra Chart account. This then provides fully secure access for you to trade your account through Sierra Chart.
Is There Position Reporting and is it Accurate
Yes, there is accurate Position Quantity reporting.
Why Do You Charge Per Contract For Order Routing?
Sierra Chart maintains direct FIX connections to Trading Technologies where we are responsible for the per contract order routing fees. The cost for order routing is .10 USD per contract per side.
This is deducted from your Sierra Chart account for each transaction. You will not be billed for order routing through your clearing firm since they are not billed from TT for orders routed through our own connection to TT.
There is no cost for orders entered on your trading account by another means separate from Sierra Chart like through the TT Platform directly. Only orders which originate from Sierra Chart and are directed to the FIX connection connection Sierra Chart maintains with TT, are billed at .10 USD per contract.
You would only be paying for commissions and the fees exchanges charge per contract, to your clearing firm.
Do You Support Direct Fix Connections To TT?
Yes this is supported and the documentation for this is on the Trading Technologies page.
This is a much more complex set up that does not have any of the advantages documented on this page. This is only meant for advanced users and where there is an absolute need to do this.
Can Other Programs Use the Trading Connection and Data Feed?
Yes, they can use the easy to use DTC Protocol and connect to the DTC Server in Sierra Chart. We also expect at some point in the future a direct connection to the servers to be supported.
Can I have the Billing Done Through my Brokerage Account?
Yes, if the clearing firm is willing to do this. In this case, Sierra Chart will invoice the clearing firm for the services provided.
Is it Secure?
Yes, it is secure for the following reasons. Order routing is through secure servers over encrypted connections. The FIX connections to TT are encrypted.
Sierra Chart does not store user passwords on our systems. They are one way encrypted. Although there is still further development work we need to do to fully complete this. This is expected to be completed by the end of February 2019. The Sierra Chart desktop program which connects to your trading account also can be set to not save the password and uses a secure connection to the trading server.
At some point we will add a second layer of optional security like perhaps two factor authentication.
Are There Any Fees from TT to the Clearing Firm?
There are no fees billed by TT to the clearing firm with this type of arrangement. The type of accounts which are created and assigned to our FIX connection, do not have any fees to the clearing firm.
There is only the per contract fee that Sierra Chart is billed from TT, which can be arranged to be paid by the clearing firm.
Additionally, there is no TT Pro license requited. The end user does not utilize any TT API. The SierraChartFIX user a TT account is assigned to, just needs to be a TT standard account.
---
*Last modified Tuesday, 23rd April, 2019.