Keyboard Shortcuts for Menu Commands
---
Introduction
This page documents using keyboard shortcuts for accessing all of the available menu commands by keyboard.
Keyboard Shortcuts for Menu Commands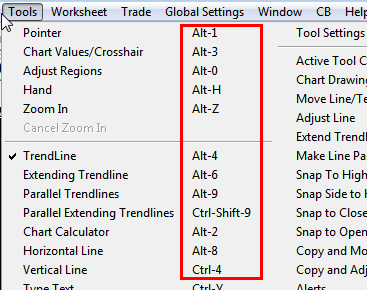 To see the supported keyboard shortcut for a corresponding menu command, refer to the keyboard shortcut description after each menu command on the Sierra Chart menus.
It is supported to assign your own custom keyboard shortcut to any Sierra Chart menu command. Refer to Customize Keyboard Shortcuts for instructions.
It is possible to quickly change the symbol of the chart through the keyboard. Refer to Changing the Symbol of a Chart for instructions.
Keyboard Shortcuts are Global and Affect All Windows
Keyboard shortcuts are global and affect all windows assuming that the command they invoke, is relevant to that particular window.
The function key F1 is going to be interpreted at the operating system level and open the relevant help documentation for the current context. It should not be used for any other keyboard shortcut.
---
*Last modified Wednesday, 22nd February, 2023.