Overview of Spreadsheet Studies
Related Documentation
Overview of Spreadsheet Studies
---
Introduction to Spreadsheet Studies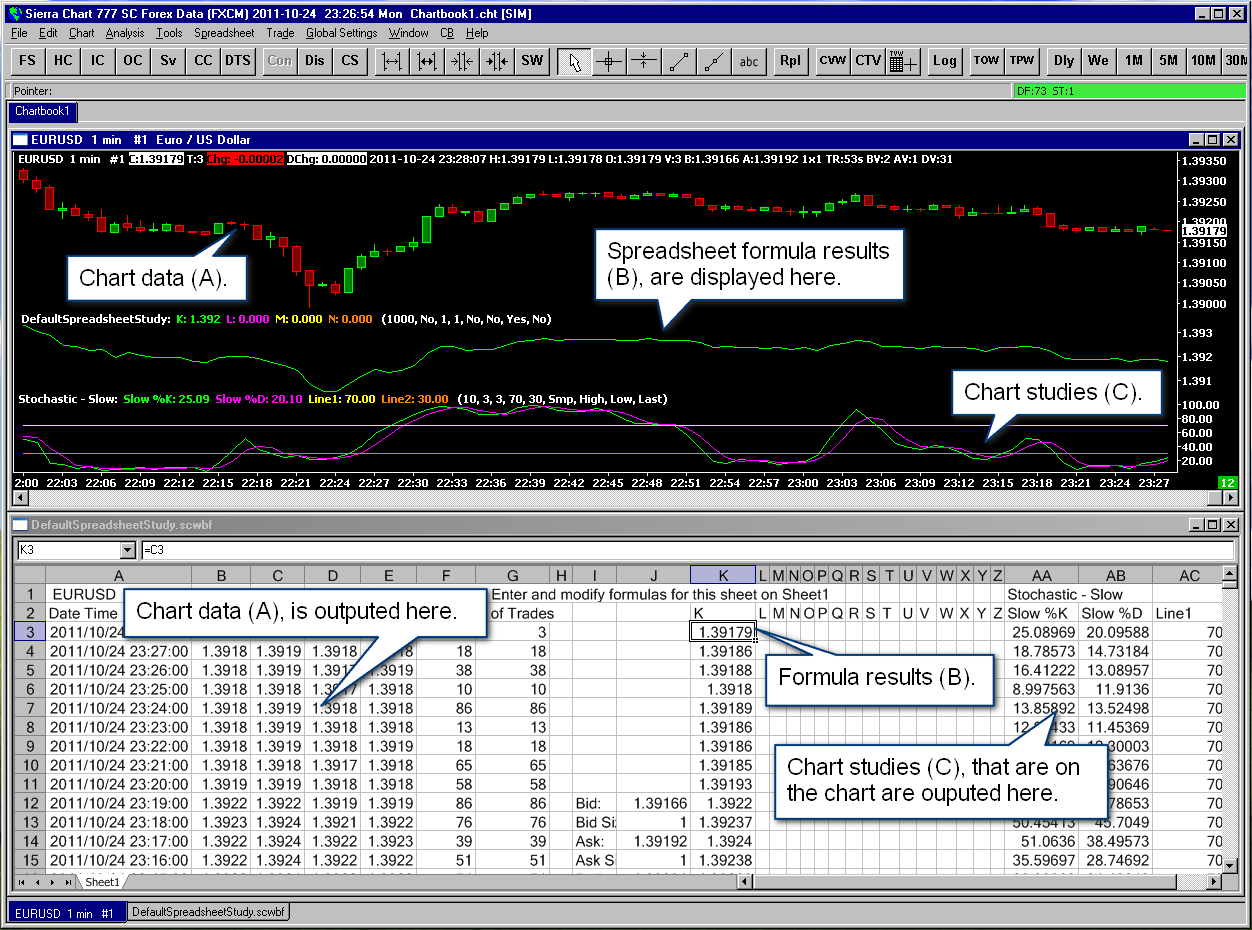 The Spreadsheet Studies will output chart data to the built-in Sierra Chart spreadsheets. These Spreadsheets support the same types of formulas as Excel and Calc and provide an easy and rapid way to create custom Studies, Trading systems or advanced Alerts.

Using any of the available Spreadsheet Studies, lets you work with the chart data using standard Spreadsheet formulas which can reference cells in the Spreadsheet.

On a Sheet within a Spreadsheet window, the formula columns (by default K through Z) are graphable on the chart to show the results of your own formulas that use the chart data.

Creating Color Bar studies is also possible. You can also color bars with the Color Bar Based On Alert Condition study.

Any time the chart is updated, the Spreadsheet will also be updated and the Spreadsheet Study graph on the chart.
The results of all the studies on the chart are also outputted to the Spreadsheet. This lets you use any study on the chart, whether built in or custom, in your own formulas. If you are using the Spreadsheet System/Alert study, then the results of all the other Spreadsheet Study studies on the chart are also outputted so you can use them in your System or Alert formula.
For the step-by-step instructions to use the Spreadsheet Study to create custom studies, refer to the Using the Spreadsheet Study page.
Creating Studies and Trading Systems Using the Advanced Custom Study Interface and Language
For more advanced Studies and Trading Systems that are faster, Sierra Chart provides the Advanced Custom Study Interface and Language (ACSIL). The general advantage of using ACSIL is that your study or trading system will be faster and you have a much higher degree of control over what it does. Refer to the Advanced Custom Study Interface and Language (ACSIL) page for complete information to create more advanced Studies and Systems. It is easier than you may think.
For instructions to use an Advanced Custom Study already developed by someone, refer to the How to Use an Advanced Custom Study page.
---
*Last modified Friday, 24th February, 2017.